Badges of the A.T.S.

(A.T.S. Remembered)
---
The badge of the A.T.S. comprised the letters A.T.S. with a laurel wreath, surmounted by a King's Crown. Bronze versions of the badges were worn by Officers in the cap and on the collar of the S.D. jacket (collar dogs). Members wore the gilded badge on the cap only. Shoulder titles in gilding metal were designed and the War Office records at the P.R.O. include a cardboard pattern which was sent to the King for approval.
There was initially concern that the shoulder titles (which consisted of A.T.S. in block capitals) would be confused with that issued to the boys of the Army Technical School. In fact the King himself suggested that a cloth title be adopted for the top of each sleeve. However, F.A.N.Y. and Women's Legion members who had been transferred to the A.T.S. were allowed to wear their cloth title from those organisations, as a distinguishing mark of their prior service and it was agreed that the gilded badges would compliment these cloth titles. As the war progressed, utility versions of the badges appeared - firstly as a cloth version of the gilded title which was attached to the epaulette and eventually as a cloth shoulder title in brown, beech and green.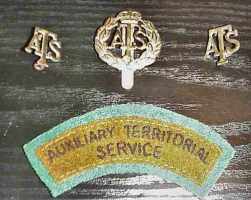 Badges of the A.T.S. Hat badge, shoulder titles (brass) and shoulder title (cloth).
As the war progressed the gilt badges were replaced with plastic versions, as metals become more scarse and were saved for more important tasks.
---
BuzyBee Web Design - furey-king@blueyonder.co.uk