A.T.S. History

(A.T.S. Remembered)
---
The A.T.S. came into being by Royal Warrant on 9 September 1938 and on 27 September of that year the formation of the A.T.S. was publicly announced. On 3rd September 1939 Britain's declaration of war was transmitted by an A.T.S. operator but it was not until April 1941 that the A.T.S. was given equal military status with men, although they continued to be paid two-thirds of the pay of men of the same rank.
In 1938 ladies who volunteered were sent along to the local Territorial Army units that already existed in their local town. They learnt about army regulations and how to drill even though, at first, there were no uniforms for them. Initially, volunteers were given an armband to wear with the initials 'A.T.S.' which they put over the sleeve of their civilian clothing. These women received little or no training and just reported regularly each week, although there were occasions when they were allowed to go to 'camp'. There were no trades available to women at that time and the jobs that these volunteers were allowed to do were based very much around the traditional roles that women had undertaken for many years, mainly cooking and other 'domestic' duties.
| | |
| --- | --- |
| | Joining up: Prior to enlisting, members were sent details of 'articles' that they would need to bring with them, in the event that they were called up in a National Emergency. The document was entitled 'Instructions on Embodiment' and an example is given in the first of the three following documents. At the same time each member was issued with a card informing them of the 'Procedure on Calling Up' and advised to bring this with them when they received their 'Notice to Join'. Copies of these other two documents are also below: |

Instructions on Embodiment

Procedure on Calling Up

Notice to Join

---

Notice to report for duty
After the initial influx of volunteers a system of basic training was established. Basic training took about six weeks, but as the war progressed the length of time members were allowed at basic training seemed to reduce. It was during this initial training that members were issued with their uniform. These very much followed the pattern of the First World War Uniforms that had been worn by female volunteers in that conflict. Details of uniform can be found on the uniform pages of this site. The distinctive pattern of the soft cap came from the Queen Mary Auxiliary Ambulance Corps (Q.M.A.A.C.) of the Great War and the jacket was very similar to that worn by the First Aid Nursing Yeomanry (F.A.N.Y.) the main difference between the uniforms of 1914-18 and 1939-45 being the length of the skirt.
Each member was issued with items of uniform clothing and 'personal sized' garments were listed in the front of the Soldier's Record and Pay Book. Again, as it had been assumed that they would carry out general duties only, they were issued with standard uniform/kit which did not take account of any special needs they may have related to the jobs they were to carry out or the type of weather conditions they would be expected to endure.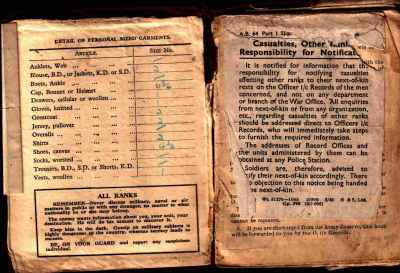 Soldier's Record and Pay Book showing personal sized garments issued
During basic training members were asked to carry out trade tests to establish which trade would be suitable for a particular member. Women were initially asked what trade they wanted to do and although they were told when they joined that they would be allowed to pick what they wanted, this is not what actually happened. It seemed that if you already had experience from civilian life, that this took priority over any personal desires for change. Therefore, if you were a shorthand typist before the war it was almost inevitable that you become a clerk. Those who were lucky enough to get through this hurdle were asked to undertake trade tests to see if they were suitable for what they wanted to do. The text given below is from the original documents held in the Public Records Office at Kew:
2556 Baker A.T.S. (Trade Test)

With effect from 23rd November 1941 the trade of baker was introduced into Group C of the list of A.T.S. trades, and the trade test is shown below. Personnel who qualify in this test are eligible for mustering, according to their classification, into authorized vacancies for the trade, and to receive the rates of pay appropriate to trades-women Group C, as laid down in Army Order 71 of 1941.

Trade test for A.T.S. personnel
Baker (A.T.S.) Group C
Class III
Must have a fair knowledge of:-
(a) Automatic bakery plant.
(b) Hand molding.
(c) Ingredients essential for bread making.
(d) Methods of sticking bread and flour.
Class II
As for Class III and in addition:-
(a) Must have a fair knowledge of dough making, molding, setting sponges, scaling dough and setting dough.
(b) Must have a good knowledge of and be able to judge the temperatures of ovens and baking conditions.
(c) Must understand the primary functions of yeast.
Class I
As for Class II and in addition:-
(a) Must have a good practical knowledge of automatic bakery plant, dough making, setting sponges, scaling dough, setting dough and drawing bread.
(b) Must understanding "tempering" processes.
(c) Must be able to estimate quantities of yeast to use.
(d) Must have a very good knowledge of stirring ferments.
(e) Must have a fair knowledge of brewing and fermentation.

Following basic training and the allocation of a trade, members were sent to their units to take up their roles in the service. When the A.T.S. was formed there were 5 main trades: Cook, Clerk, Orderly, Storewoman, Driver, but as time passed, more and more trades were taken over, including highly-skilled and technical work and tasks which the organisation of the army depended upon, such as equipment, ammunition and clothing.
Gradually, women were mobilised to replace men, but initially only in the types of roles that they had experienced in the inter war period. They were often allocated to mess duties in the male Officers' Mess and there was little consideration of the experience or indeed talents that they could bring to other tasks. The exception to this was the female drivers.
| | |
| --- | --- |
| During the First World War, F.A.N.Y. (First Aid Nursing Yeomanry) were 'unofficially' set up with the idea that they could ride horses on to the battlefield and snatch up wounded soldiers. Girls who volunteered were encouraged to bring along their own horses for this very task. As that War progressed it became obvious that this was not a viable proposition, but women transferred their talents to driving Ambulances with great courage and to great effect. This experience and the fact that many civilians during the 1930s had learnt to drive, was transferred to the Second World War and there was, therefore, an expectation that women would be able to drive. Initially, volunteers were given duties driving staff cars (normal saloons) but their talents were such that many moved on to drive lorries of all sizes and motorcycles. | |
Following on from the experiences at Dunkirk in 1940, and Egypt during 1941, and the fact that even more men were expected to be needed for the 'front line' the Government realised that they could soon be suffering a more severe shortage of manpower. Women had been volunteering for the services but, for various reasons, not in the sort of numbers that the Government had hoped. Therefore, in 1942 the Government reluctantly decided to bring in conscription for women. Those eligible had to register at their local labour exchange where arrangements were made for them to join one of the three services or do factory or land work for the war effort.
The Public Records Office shows in a document dated 3 July 1946, that the A.T.S. served in operations all over the world, as well as in the U.K. Details are given in the following table:
| | | |
| --- | --- | --- |
| France B.E.F. | Iraq M.E.F. | Italy A.F.H.Q., A.A.I., C.M.F., B.N.A.F. |
| Norway N.W.E.F. | Syria M.E.F. | |
| Malaya | Greece M.E.F. | |
| Madagascar | Crete M.E.F. | |
| Egypt M.E.F. | N. Africa B.T.N.A. | Dodecanese M.E.F. |
| Hong Kong | Sicily A.F.H.Q. | Indai / Burma S.E.A.C., A.L.F.S.E.A. |
The number of women in the service by December 1939 was 23,900 and this grew steadily until reaching a peak in September 1943 of 212,500. After this, numbers started to decline and by 'D' Day in June 1945 numbers had reduced to 190,800. The majority of women were aged between 19 and 23 years old with a much smaller proportion of members over the age of 35 years.
During the period of hostilities 335 members of the A.T.S. were killed, 94 were reported missing, 302 were wounded and 20 became prisoners of war.
Women were still registering to join the A.T.S. after the war had ended and continued their service in many supporting roles. The A.T.S. was disbanded in 1949. It had been decided that, in recognition of their work, the A.T.S. should be designated 'Royal'. However, it did not take them long to realise that the Royal Auxiliary Territorial Service was the R.A.T.S. so the decision was taken to change the name of the service completely to the Women's Royal Army Corps (W.R.A.C.) Members who wanted to continue their service were 'discharged' from the A.T.S. and re-enrolled in the W.R.A.C.
The 'March of the A.T.S.' sums up the spirit of the Service:

"See them standing shoulder to shoulder,
Daughters of Britain every one;
Taking a manís place, Playing a real part,
Seeing a good job well done.
Freedom made the call and they answered,
Just as their mothers answered before,
Let us salute them, knowing we need them,
Fighting the good fight once more.

"When the A.T.S. go marching by
Thereís a look of pride in evíry eye
Oh, the whole world knows they wonít give in,
Women with the will to win.
When the A.T.S. go on parade
Evíry motherís heart goes on parade
Itís beauty on duty, grim and gay in the A.T.S."
---
BuzyBee Web Design