Service Dress

(A.T.S. Remembered)
---
Service Dress (S.D.)
Service Dress was the main item of uniform that was issued regardless of trade. If you were in Signals or were a Clerk etc there was no need to have any specialist uniform items, as you would not be expected to be out in all weathers or carrying out any of the dirty manual tasks that some trades had to. The uniform consisted:
Jacket and skirt. The first pattern jacket had breast pockets with shaped flaps and a pleat, fabric belt and brass buttons. Later versions had flat pockets with straight flaps and the brass buttons were eventually replaced with plastic ones. This was to conserve brass for other purposes. The skirt was 'A' line, made in six panels, done up with poppers and a button at the left side and with a small pocket in the right front seem. Officers wore a separate leather belt instead of the fabric one. It was on this uniform jacket that most of the insignia was worn (see various pages relating to badges in this site).
Members wearing first pattern Service Dress
Khaki shirts with separate collars, and tie. The shirts had a small yoke and a pleat in front of each shoulder.
ATS cap. The ATS cap came in two versions. The first issue was a cap with a soft peak and a fabric strap at the front, the second issue had a hard peak and a leather band. In the F.A.N.Y. (First Aid Nursing Yeomanry) tradition, drivers used to put the leather band across the top of their hat when driving.
Brown leather shoes. Originally the shoes were small men's Officer issue, but they were eventually made to the same design specifically for women.
Underwear - three pairs of khaki lisle stockings, two suspender belts/corselets two pairs of knickers, two pairs of wool pants, two vests, and two bras.
Greatcoat/Raincoat. ATS were issued only with a raincoat at first as it was assumed that they would not be placed anywhere where it was too cold or windy. However, they soon realised that the raincoat was not sufficient, and an ATS greatcoat was issued. This differed from the men's version in that it had a white blanket lining.
Many members also privately purchased a Field cap in brown, beech and green to wear with their S.D.
Field cap side, with badge
(brown with green piping)

Field cap, top
(showing beech top)
Khaki drill (K.D.) was also issued for use in warm countries such as Malta. A.T.S. members used a K.D. skirt - the same pattern as the S.D. skirt, but made of khaki drill material - with an aertex A.T.S. shirt, no tie, the usual soft cap, shoes and short khaki socks. This was not the issue used for tropical areas, as too much skin was exposed to the voracious appetite of the mosquito!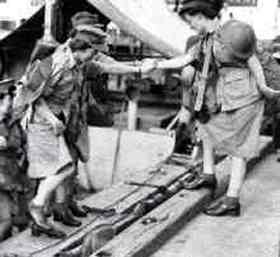 Tropical kit was also made available to members posted to warm countries, such as South Africa, Egypt etc.
A.T.S. uniform evolved over the war years and, as with many things during the WW2 period, members made do with what they could get. There seemed to often be a mixing of cap/bonnet styles and differing patterns of uniform even within groups.
There are some good books with information about uniform and I would recommend:
World War II, British Women's Uniforms, Martin Brayley & Richard Ingram (Crowood Press)
World War II Allied Women's Services, Martin Brayley & Ramiro Bujeiro (Osprey Publishing)
British Army Handbook, George Forty (Chancellor Press)
---
BuzyBee Web Design