Memorial - Women of WWII

(A.T.S. Remembered)
---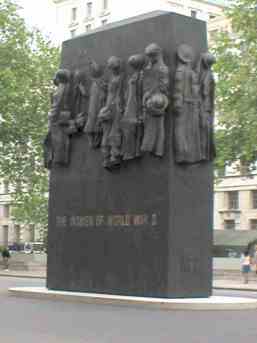 This is a picture of the memorial to "The Women of World War II" which was unveiled by Her Majesty Queen Elizabeth II on Saturday 9th July 2005.
The bronze sculpture which depicts images of hats, respirators, uniform and overalls was placed near the cenotaph in Whitehall. The memorial was designed by John Mills who also created the blitz firefighters' memorial which has been placed outside St Paul's Cathedral. This is the first national memorial to honour the role of women in the second world war and is some 22 ft high.
The memorial was erected in recognition of the crucial contribution made by more than seven million women to Victory in Europe and Victory over Japan in 1945. The memorial is more than a tribute to those who lost their lives in World War II. It celebrates all those who willingly gave up six years of their lives in service to their country - the women who built bridges and ships; made munitions and aircraft; worked 18 hours a day on the land; worked as code breakers and agents behind enemy lines and women who risked their lives as air raid wardens and fire watchers. The monument depicts seventeen sets of women's clothing hung on pegs, just as if they had been left there by women as they returned home when the job was done.
The memorial is a result of a campaign by The Memorial to Women in World War II Fund who were awarded nearly £1m by the National Heritage Memorial Fund.
The following pictures of the opening ceremony are from the Ministry of Defence website and give some good views of the memorial and some of the veterans who attended:
| | |
| --- | --- |
| A transcript of the debate that took place in the houses of parliament when the memorial was decided upon can be seen at : | |
| Details of the National Heritage Memorial Fund can be found here | |
| The Women's Memorial official website can be found at: | |
---
BuzyBee Web Design